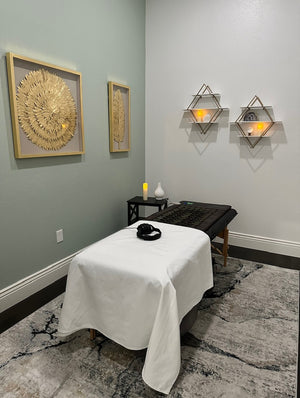 The healing effects of Sound Therapy that you can actually FEEL
Immerse yourself in a total mind, body and emotional therapeutic session with our custom Vibrational Sound Table, featuring high powered frequency speakers that emit a low vibration deep into the body.  The frequencies and bio-healing music work to rejuvenate the cells in your body, strengthen and support the organs, and release chronic tension and pain from the muscles and bones.
To help relax tight muscles and increase blood circulation during your session, we add-on our specialty, infrared therapy mat. Utilizing hot stone therapy amplified by specific gemstones, our mat is a natural conductor of far infrared rays and negative ions.
We offer 30, 60, or 90 minute custom sessions. Prices range from $49 up to $119 for the hour and a half.
See our FAQ section if you have any more questions, or you may call/email us.
If you're ready to try it, use the button below.
BOOK A SESSION
My introductory session on The Table was so relaxing and such a wonderful overall experience. The combination of sound and vibration was amazing and after finishing I felt rejuvenated and happy.
Julie - Sacramento, CA
Wow! That was such a unique experience, and I've already booked my next session. My body feels incredibly at ease and the tension appears to be gone.
Adam - Granite Bay, CA
Everyone needs to try this. I entered a total state of relaxation and bliss. I will be back for more!
Christina - Vacaville, CA