WELCOME TO THE SERENITY SPACE
The past couple years have been tough for all of us – between a pandemic, war, and political turmoil – many of us experienced isolation, uncertainty, disconnection, and heightened anxiety.  As we continue to adapt to new paradigms and a new normal, it's abundantly clear that our mental and physical well-being must be a top priority.
OUR STUDIO
Welcome to The Serenity Space, your one stop shop for all things holistic health and wellness. We offer services such as Yoga, Meditation, and Sound Therapy, along with our diverse selection of retail products, all to enhance both your physical and mental well-being.
We are located in Elk Grove, CA right off the I-5, and only 15 short minutes from Downtown Sacramento.
We pride ourselves in having a smaller, more intimate yoga and meditation room which is non-heated, mirror free, and offers a more personalized experience than other crammed, industrial type studios. Our room comfortably fits approximately 18 yoga students, giving you an opportunity to meet and connect with other students and your instructor.
Towards the back of our space, we have a separate room for Vibrational Sound Therapy along with Sound Healing sessions. For those wishing for a more private, and customized experience, this is your opportunity to work with your specific goals in mind.
Our retail shop has a unique selection of wellness products and gifts, including:
-ION Gut & Microbiome Support
-Organifi Superfoods 
-Bouquet Herbal Teas
-The Good Rub Skin Care Products
-Crystals & Other Metaphysical Products
-Candles 
-Jewelry
-Self-Development Books & Journals
-Essential Oils (doTERRA and Young Living)
-Tarot & Oracle Cards
....and more!


Please visit our 'Yoga and Meditation Schedule' and our 'Events' Pages to see all we have to offer, and we look forward to welcoming you into the studio soon!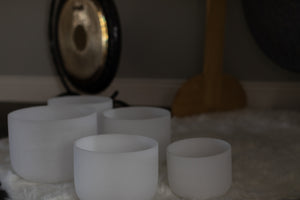 OUR MISSION
Provide a space which allows our community to thrive in health and vitality through authentic self-care and connection. We are passionate about being your first line of wellness, and look forward to welcoming you in.