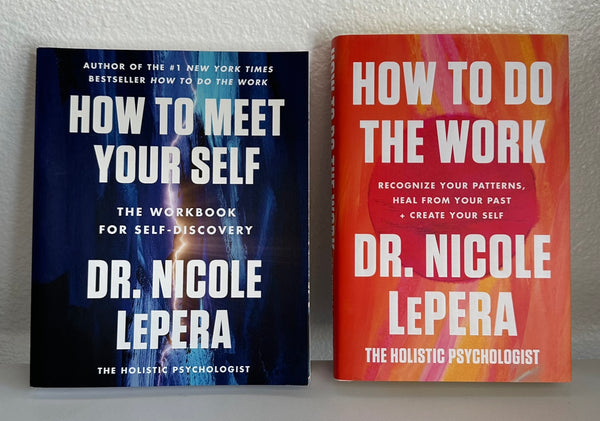 The Holistic Psychologist Bundle
In anticipation of the release of her latest book, we're offering How to Do The Work and How. to Meet Yourself at a bundled price of $40.  
How to Do the Work: Recognize Your Patterns, Heal From Your Past & Create Your Self
In How to Do the Work, Dr. LePera offers listeners the support and tools that will allow them to break free from destructive behaviors to reclaim and recreate their lives. Nothing short of a paradigm shift, this is a celebration of empowerment that will forever change the way we approach mental wellness and self-care.
How to Meet Your Self: The Workbook for Self-Discovery
How to Meet Your Self is a revolutionary guide, a kind and encouraging companion, and a comprehensive masterwork of self-understanding that will radically transform your inner work and outer world. 
At the root of all healing work is awakening consciousness, a process of shining light into the darkness of the unknown. In recent years, Dr. Nicole LePera has become the leading voice in psychological self-healing, helping millions of people around the world rise out of survival mode to consciously create authentic lives they love.
In her first book, How to Do the Work, Dr. Nicole offered audiences a revolutionary, holistic framework for self-healing. Now, in How to Meet Your Self, she shares a book designed to help every listener uncover their Authentic Self. By objectively and compassionately observing the physical, mental, and emotional patterns that fill our days and create our current selves, we can more clearly see what we do not wish to carry into the future.
We all fall into conditioned habits and patterns—products of our past—that lead to cycles of pain, stuckness, and self-destruction. But as Dr. Nicole shares, we also have the innate ability to awaken to and change the behaviors and habits that no longer serve us, allowing us to step into the highest versions of ourselves. And as you work through this book and witness these default habits, from sleep to movement to eating, through emotional reactivity and core beliefs, you will never again have to ask: "but where do I start?"