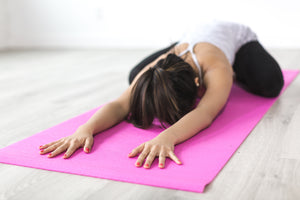 GENTLE YOGA WITH SOUND BATH
Join us for a gentler form of yoga, focused on the breath, controlled movements, and alignment of postures. This class will be practiced at a slower pace, and allows for more Teacher cueing and guidance for the students.
Unlike our Vinyasa Flow style classes which are at a faster pace, and focus mostly on transitions between many postures - this class will be great for Beginners as we encapsulate more stillness, precision and alignment.
Class will be held weekly on Mondays at 6:15pm.

BEGINNER YOGA SERIES
Vinyasa for Beginners is a rotating 4 part workshop series, offered quarterly, where our instructors combine education on the practice of yoga with the demonstration of commonly seen poses, as well as an opportunity to practice what you've learned. The topics covered in this series will include:
Physical and mental benefits of yoga.
The importance of breath and how it is incorporated into a yoga class.
Common yoga poses with a demonstration of the pose followed by student practice.
Anatomy of a yoga class and what to expect from each of the class styles we offer.
Explanation and demonstrations of Sun Salutations A and B.
Tying together everything you've learned and practicing a vinyasa flow.
Whether you're completely new to yoga, or looking to refresh your practice, this series is for beginners and seasoned yogis alike. We look forward to welcoming in and learning in community.
Our next series is starting in September 2023.
Email us if you'd like us to send you details!